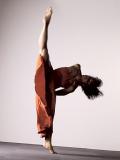 MEDIA CONTACT: Amy Malone, Girl in Charge Public Relations
323-972-4081
amy@gicpublicrelations.net
September 23, 2011 – Saleemah E. Knight joins the client roster of Girl in Charge Public Relations. One of the industries most sought after dancers and choreographers, she is known for her unique style, precise technique, and energetic presence.
Her passion for dance and strict professionalism has landed her on the stage and in videos with some of Hollywood's top names including Beyonce, Chris Brown, Jamie Foxx, Ludacris, Akon, the Pussycat Dolls, and Disney's 'The Lion King' Broadway Musical. With a smile that lights up the room and a body that most women would die for, Saleemah is one of the hottest commodities in the industry.
A dancer since the age of 3, Saleemah has trained in various disciplines such as Ballet, Modern, Jazz, and Hip Hop dance throughout her childhood and teenage years. She graduated Magna Cum Laude from the University of Arizona, Dance Division and is currently pursuing her Masters of Fine Arts from the University of California, Irvine, where she attends on a full academic scholarship while teaching undergraduate dance courses.
Now preparing to tape a new fitness video, pursue acting roles, and mentor young dancers; Saleemah E. Knight is on track to be one of the freshest new faces in Young Hollywood.
For additional information about Saleemah visit, http://www.saleemaheknight.com/ or to schedule an interview or appearance contact GIC Public Relations 323-972-4081.
###
GIC Public Relations is a full service firm specializing in media outreach, crisis management, and event coordination for all facets of the entertainment industry, political campaigns, sports figures, non-profit organizations, and corporate projects. For additional information visit us at www.gicpublicrelations.net.