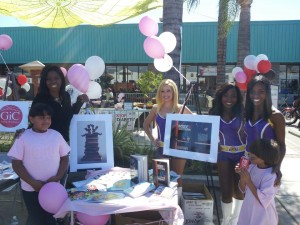 MEDIA CONTACT: Amy Malone, Girl in Charge Public Relations
323-972-4081
amy@gicpublicrelations.net
10/10/2011- Watts Labor Community Action Committee (WLCAC) partnered with Charlie's Angels Motorcycle Club (CAMC) for the 1st Annual Cancer and Health Awareness Community Festival. The event held Saturday, October 8, at the corporate offices of WLCAC serviced hundreds of local residents.
The 'Festival' offered an array of free health care services including Mammogram's, Immunizations, and testing for STD's, HIV, Cholesterol, and Blood Pressure. Health and fitness experts were on hand to answer questions and hand out written material about healthy living.
Demonstrations were held on an outside stage including an impromptu Zubma class with Congresswoman Maxine Waters participating with other event attendee's. Former rapper and popular radio personality Poetess addressed the crowd, along with WLCAC President, Tim Watkins, and Congresswoman Maxine Waters.
The children received tips skateboarding tips from Warning Skateboard Shop, and participated in the Eastside Riders Skateboard contest. They also enjoyed an interactive Video Game Trailer, Moon Bounce, and an assortment of healthy snacks. Their excitement continued when The Los Angeles Laker Girls, actress Nicki Micheaux, and reality star and local business owner Frank Rice came out to sign autographs, take pictures and distribute books donated by Lullalee's Literacy for Children, and author Ebony Humphrey.
The day was full of music provided by the KJLH Street Team and an inside stage offered live entertainment including the legendary Temptations, local choirs, and singers.
WLCAC and Charlie's Angels Motorcycle Club brought together community leaders, entertainers, local business owners and various organizations to celebrate the lives of local residents and offer a day of family fun with a purpose.
###
GIC Public Relations is a full service firm specializing in media outreach, crisis management, and event coordination for all facets of the entertainment industry, political campaigns, sports figures, non-profit organizations, and corporate projects. For additional information visit us at www.gicpublicrelations.net.