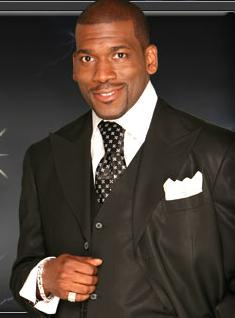 FOR IMMEDIATE RELEASE
MEDIA CONTACT:
Amy Malone, Girl in Charge Public Relations
323-972-4081
amy@gicpublicrelations.net
March 30, 2012 – Girl in Charge Public Relations adds Pastor Jamal Bryant to their client roster. The internationally acclaimed minister is a social and civil activist, community developer, author, motivational speaker, and media personality.
Pastor Jamal Bryant is the founder of the Empowerment Temple Church in Baltimore, MD. Under his leadership the church has grown from 43 members to over 12,000 in a few short years making it the fastest growing church in the history of the AME denomination. With a strong presence in the community members of the congregation were responsible for registering more voters than any church in the state of Maryland.
He is a leader who has been able to relate to people from all walks of life. He dropped out of high school, became a single parent, secured a GED and was able to achieve a Bachelors degree from Morehouse College and a Masters of Divinity at Duke University. He then studied at Oxford University in Great Britain and earned a doctorate from The Graduate Theological Foundation.
His commitment to people has been evident over the years. He served as the national youth and college director of the NAACP for 6 years, established the JHB Hope Academy in Liberia, Africa, built a 1000 seat sanctuary to service the spiritual needs of the Liberian people, and participated in voter mobilization for the first free election in Johannesburg, South Africa whereby Nelson Mandela was elected. In addition he continued his civil rights activism here in the states as well by leading the Occupy the Dream Movement with Russell Simmons and Dr. Ben Chavez in January of 2012 to raise awareness about economic inequity in the black community, and most recently led a march of over 8000 protestors in Sanford Florida for slain teenager Trayvon Martin.
With 4 books written, over 8,000 international viewers of his services online and a social media network of over 150,000; he is set to make a dynamic spiritual, social, and civil impact on people around the world.
Pastor Jamal Bryant is committed to giving a voice to a generation that has been undervalued and overlooked.
###
GIC Public Relations is a full service firm specializing in media outreach, crisis management, and event coordination for all facets of the entertainment industry, political campaigns, sports figures, non-profit organizations, and corporate projects. For additional information visit us at www.gicpublicrelations.net.