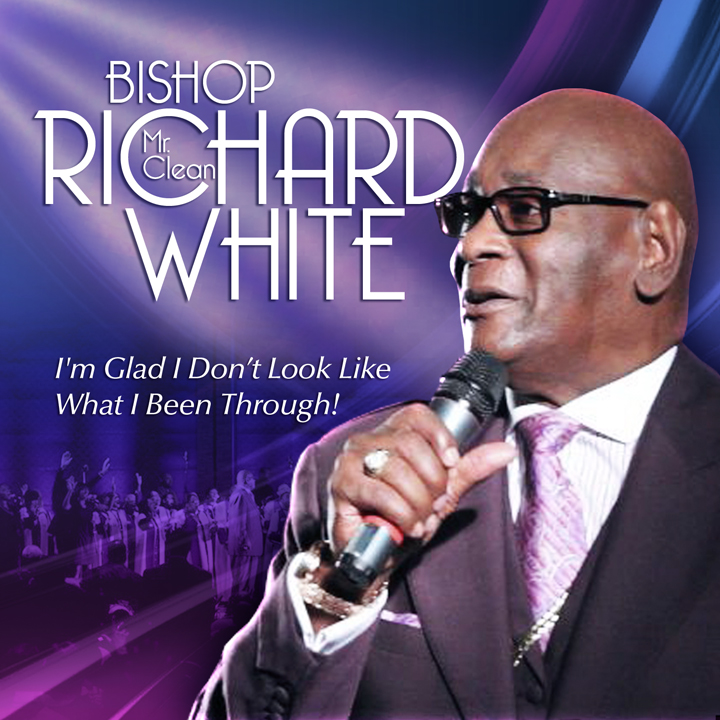 FOR IMMEDIATE RELEASE
MEDIA CONTACT:
Amy Malone, GIC Public Relations
323-972-4081
amy@gicpublicrelations.net
August 22, 2012 – Bishop Richard "Mr. Clean" White embarked on a 20 city radio tour to promote his first single on the Flow Records label, "I'm Glad I Don't Look Like What I Been Through." The CD which is complied of uplifting, hand clapping Traditional Gospel Music will be in stores, October 30, 2012.
The single has received tremendous support from radio as it climbs the BDS Charts with a current standing at #32 on the Gospel Chart and #34 on the Media Base Gospel Chart. The single continues to work its way up the charts weekly with BDS and non-BDS reporting stations adding "I'm Glad I Don't Look Like What I Been Through" to their rotation and increasing spins at a steady rate.
The radio promotional tour started August 21, at WAGG, in Birmingham, AL and continues to cities such as Nashville, TN, Chicago, IL, Jackson, MS, Columbus, GA, Detroit, MI, Los Angeles, CA, Chattanooga, TN, Atlanta, GA, Columbia, SC, and Montgomery, AL. Program Directors and radio host will have the pleasure of experiencing the humor and personality of Bishop Richard "Mr. Clean" White as he visits stations and introduces his inspirational music to a new generation of Gospel Music lovers.
"The song speaks to the hearts of people that have been through things in life, yet endured. I wanted to let people know we are imperfect, and in our journey we might have to suffer, but you have to stay faithful to the word of God and he will see you through. I wanted to inspire others to stand when trusted friends forsake them, financial burdens overwhelm them, health fails, and their spiritual faith gets tested," said Bishop White.
Platinum producer and president of Flow Records, Myron Williams stated, "Working with one of the legends of Traditional Gospel Music was a blessing for me. He is not only a staple in this music, but he is a personal friend and mentor. When you work with an anointed man of God, it is a blessing to watch the spirit move through him. "I'm Glad I Don't Look Like What I Been Through," is a product of prayer and faith. The song is truly a blessing."
For more information about Bishop Richard "Mr. Clean" White, or to schedule an interview contact Girl in Charge Public Relations.
###
GIC Public Relations is a full service firm specializing in media outreach, crisis management, and event coordination for all facets of the entertainment industry, political campaigns, sports figures, non-profit organizations, and corporate projects. For additional information visit us at www.gicpublicrelations.net.