FOR IMMEDIATE RELEASE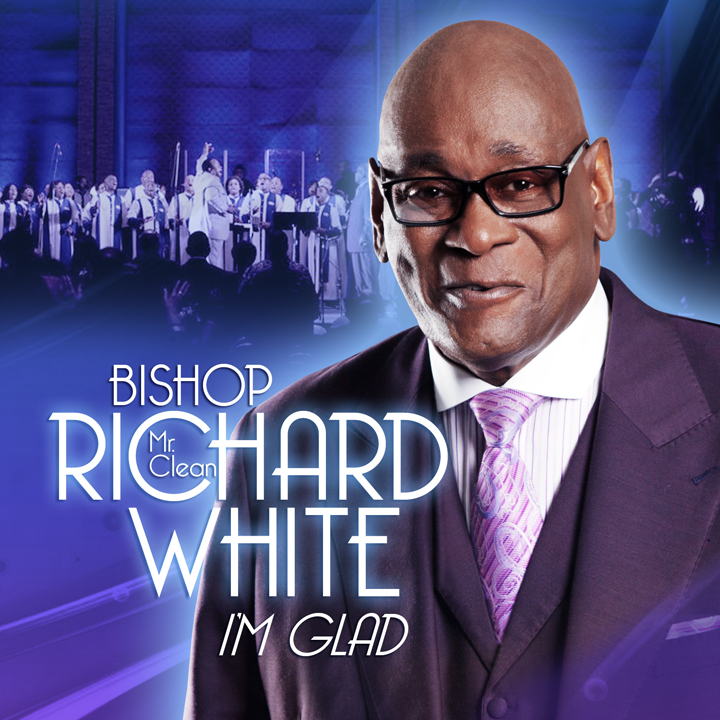 MEDIA CONTACT:
Amy Malone, GIC Public Relations
323-972-4081
amy@gicpublicrelations.net
November 5, 2012 – One of the legends of Gospel Music Bishop Richard "Mr. Clean" White is back with a new CD entitled "I'm Glad," on Flow Records. This new project is the first solo CD he has released in 6 years, and it promises to be one of his best. Filled with feel good Traditional Gospel Music it is sure to have the Saints praising God across the country.
"I'm Glad" hit's stores November 6, 2012.
After a near death experience Bishop White has overcome a hail storm of obstacles, and battles, but in the midst of it all he continued to praise God for his healing, and remained the pillar of strength and God called him to be. "I'm Glad I Don't Look Like What I've Been Through," is the first single and it is the result of his prayer and faithfulness; a written testimony of his victory.
"The songs on this CD speak to the hearts of people that have been through things in life, yet endured. I wanted to let people know we are imperfect, and in our journey we might have to suffer, but you have to stay faithful to the word of God and he will see you through. I wanted to inspire others to stand when trusted friends forsake them, financial burdens overwhelm them, health fails, and their spiritual faith gets tested," said Bishop White.
The new project was produced by platinum producer Myron Williams. The president of Flow Records has a long track record of successful projects having worked with people such as Marvin Sapp, T.D. Jakes, Juanita Bynum, Kim Burrell, Micah Stampley, and many others he has the ability to pull the best from those he works with, and ultimately does this with Bishop White.
For more information about Bishop Richard "Mr. Clean" White, or to schedule an interview contact Girl in Charge Public Relations.
###
GIC Public Relations is a full service firm specializing in media outreach, crisis management, and event coordination for all facets of the entertainment industry, political campaigns, sports figures, non-profit organizations, and corporate projects. For additional information visit us at www.gicpublicrelations.net.