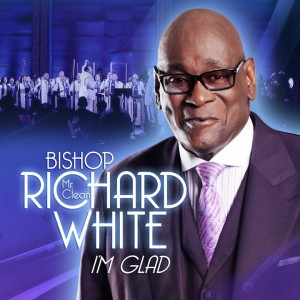 FOR IMMEDIATE RELEASE!

MEDIA CONTACT:
Amy Malone, Girl in Charge Public Relations
323-972-4081
amy@gicpublicrelations.net
November 29, 2012 – "I'm Glad" by Bishop "Mr. Clean" White debuted at #7 on the Billboard Charts and continues to hold its position for the 2nd week. The new CD on Flow Records was released November 06, 2012, and became the labels 10th straight top 10 placement since its inception.
The Traditional Gospel CD is sure to be a classic with church folks around the country. The project blends Old School Gospel with a little contemporary production by Myron Williams. The songs and lyrics are still sermons put to music. The message and sincere delivery makes listeners feel the comfort and blessings received at an evening at church when the Spirit fills the service. The anointing on "I'm Glad" is apparent to those that have had the pleasure of hearing the entire CD.
This is Bishop White's first CD since his open heart surgery, and is a testament to his faith and love for Christ. It is his first solo project to appear on the Billboard Charts, however he has enjoyed success as a writer of songs such as "The Safest Place" performed by Karen Clark Sheard and daughter Kierra "KiKi" Sheard, as well as Gospel classics such as "It's Almost Midnight," and "Your Life is Not Beyond Repair."
"As Bishop White has said many times before, he is a preacher first and Gospel singer and song writer second, so the anointing felt when he is preaching naturally comes through when he ministers in music. I'm just happy it was this project that gave Flow Records our 10th straight Billboard placement. It's been a long road, but we have ultimately put out great music at Flow that ministers to the Body of Christ," said Myron Williams, President of Flow Records and producer of "I'm Glad."
Flow Records has been one of Gospel Music's most successful Independent Labels with a string of chart toppers from former label president Juanita Bynum such as "A Piece of My Passion," "More Passion," "Christmas At Home with Juanita Bynum," "Pour My Love on You," and her collaboration with Jonathon Butler "Gospel Goes Classical," along with Myron Williams "Made to Worship," and "Thankful."
Bishop White will continue to visit churches and radio stations across the country promoting the new CD, while keeping up with his busy preaching schedule.
If you would like to schedule an interview or book Bishop White, please contact GICPR, 323-972-4081.
###
GIC Public Relations is a full service firm specializing in media outreach, crisis management, and event coordination for all facets of the entertainment industry, political campaigns, sports figures, non-profit organizations, and corporate projects. For additional information visit us at www.gicpublicrelations.net.