MEDIA ALERT!

Media Contact:
Amy Malone
323-972-4081
amy@gicpublicrelations.net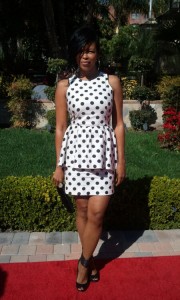 LOS ANGELES, CA – Dawn Robinson, former member of the iconic female group En Vogue is back in the public eye and looking better then ever. Dawn hit the red carpet this weekend to support the Helpppping Hands Foundation at the Gospel Goes to Hollywood Luncheon, in Hollywood, CA. Dawn wore Vintage Sak's Fifth Ave, and L.A.M.B. shoes, provided by LA stylist Karla J. Monette, and NESHA. The event honored one of the original Diva's Sheryl Lee Ralph, as well as Hollywood heavy-hitter DeVon Franklin.
Dawn, is currently in production on R&B Divas LA, and decided it was time to get back out and mingle with old friends and make new ones. She has been out of the public eye for several years and took that time to reflect on her career and personal life. Although there was great success achieved as a member of En Vogue and Lucy Pearl, it is now time to concentrate on projects that mirror her energetic, fun, and slightly eclectic personality. She is looking for Funky new music that showcases her Sultry voice and Rocker edge, while reading scripts and working on her personal memoirs.
Dawn gave a short performance for LA fans during a taping of R&B Divas LA, and as you will see vocally and physically she is just as sexy and captivating as ever: http://youtu.be/2NI3PdS38TY?t=39s
To book Dawn Robinson for interviews, performances, speaking engagements, or appearances contact GICPR.
no images were found