FOR IMMEDIATE RELEASE:      September 21, 2014
Media Contact:
Amy Malone, GICPR,
323-972-4081
amy@gicpublicrelations.net
Bishop G.E. Gamble and the R.O.C. Worship Center Layout Plans for Community Outreach Programs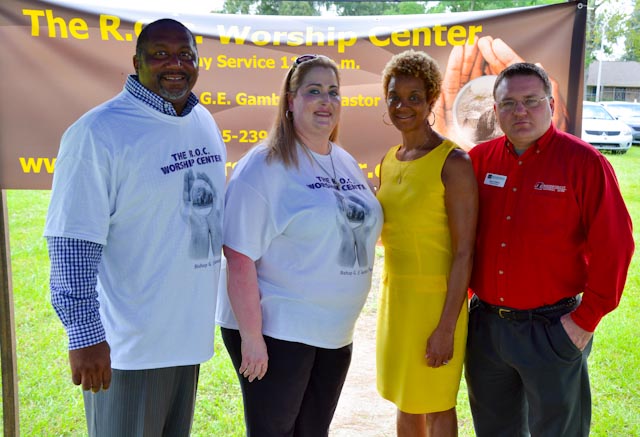 Bishop G.E. Gamble, First Lady Gamble, Councilwoman Donna Collins-Lewis, Brian Wilson, Woodforest Bank
BATON ROUGE, LA – R.O.C. proudly announces the grand opening ceremony of the R.O.C. Worship Center led by Bishop G.E. Gamble on Sunday, September 21, 2014 at 3:00 p.m.  The new church is located at 10085 Great Smokey, Baton Rouge, LA 70814.
R.O.C. Worship Center is new to the Baton Rouge area, but in its short time has made a powerful impact with its hands on approach to community outreach.  The growing congregation is made up of a dedicated group of people with diverse backgrounds and stories brought together for the greater purpose of bringing souls to Christ and uplifting the community the reside in.
Founder Bishop G.E. Gamble is a true man of God with a vision and passion for spreading the Gospel.  The founder of No Man Left Behind Outreach Ministries is always reaching out and giving back to the community with a kind heart and welcoming smile.
"I am humbled by the opportunity to serve the members of R.O.C. Ministries and the people of this city.  The outpouring of encouragement and support from the community has been amazing.  God is orchestrating a great happening here in Baton Rouge in a way that only he could do.  He has brought together a congregation with a love for God and a love for people," said Bishop G.E. Gamble.
R.O.C. Worship Center will offer many services to the members of the community and looks forward to building an open line of communication with local community leaders and public officials to address the needs of the people.  Getting involved in the local community is important to Bishop Gamble.  His love for people and their spiritual, social and physical well being drives him to reach out to those in his neighborhood and find out what is needed to strengthen and uplift the community
The Grand Opening will be a wonderful time of worship and celebration for all that attend.  The service will include inspirational music, special words from Bishop Gamble, invited guests and local dignitaries.
All are welcome to attend the Grand Opening Celebration of the R.O.C. Worship Center.  If you would like additional information visit http://www.therocworshipcenter.com/.
A press conference will be held at R.O.C. Worship Center prior to the grand opening ceremony.  Members of the media are asked to attend.  In attendance will be Bishop G.E. Gamble, special guest dignitaries and local officials to discuss the impact of the new church and its grassroots community outreach.
Additional information about the press conference is forthcoming.  Members of the media contact Amy Malone, GICPR at 323-972-4081 or amy@gicpublicrelations.net .
###
GIC Public Relations is a full service firm specializing in media outreach, crisis management, and event coordination for all facets of the entertainment industry, political campaigns, sports figures, non-profit organizations, and corporate projects.  For additional information visit us at www.gicpublicrelations.net.