Top Social Media Strategist, Crystal Washington Authors New Book, One Tech Action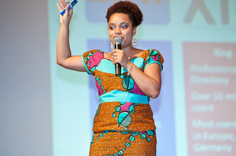 LOS ANGELES, CA – Marketing & Technology Strategist, Crystal Washington will be in Washington DC, September 11 – 14, for a speaking engagement and to promote her new book, One Tech Action.   As the go to person when it is time to simplify complex web and social media topics, she is often hired by Fortune 500 companies as a Keynote Speaker for conferences, conventions, and panel discussions when they want their teams to take action online and create a more dominate social media presence.  An expert in taking the fear and mystery out of Social Media Technology, Crystal has the innate ability to connect with her audience and make everyone feel smart.
In addition to being one of the most sought after speakers in her field, Crystal is also an accomplished author.  She is preparing to release her new book, One Tech Action, which is scheduled for an October, 2016 release.   The book will educate consumers on the practical applications of social media networks like Facebook, Twitter, LinkedIn and YouTube and how to utilize the technology to make their lives more efficient, effective and connected.
Crystal recently presented to a group of Hanley Wood's top customers on top social media strategies and opportunities. Crystal's style is incredibly dynamic and energetic but her most powerful skill is her ability to create meaningful conversation. Within 2-3 minutes of the presentation beginning she had the room buzzing, asking questions and taking notes. Top 5 industry presenters I've seen in 20 years.
—Dave Colford, Chief Revenue Officer, Hanley Wood
Our digital team attended Crystal's workshop on Social Media at an NNPA convention. We immediately went to work on a new Social Media strategy for PhillyTrib.com based on what we heard from Crystal's workshop—After 8-months of activity, we've organically quadrupled our Followers on Twitter and our Likes on Facebook. The Philadelphia Tribune at PhillyTrib.com has reported a 61% increase in average unique visits per month, and a 41% increase in average total page views per month. Now, that's value!
—Todd Edwards, Digital Project Manager, Philadelphia Tribune
About Crystal Washington
Crystal Washington is an internationally known Technology Strategist, Keynote Speaker, and Author, who has impacted companies, associations and entrepreneurs all over the world.  She is an expert in making everyone feel smart by helping them use technology to become more efficient, effective and connected in business and their everyday lives.
The owner of CWM Enterprises and co-founder of Socialtunities, a social media instructional brand, Crystal Washington is the go to person when powerful companies want their teams to take action online, and create a more dominate presence.  The social media expert and dynamic speaker has worked with Google, Microsoft, GE and others in the USA, Africa and Europe. For this comprehensive knowledge on social media, she has been interviewed by ABC, NBC, FOX, CBS and numerous radio stations and magazines around the globe.
To learn more about Crystal Washington visit:  www.crystalwashington.com.
We are scheduling interviews with local media while Crystal Washington is in Washington, DC.  Please contact, Amy Malone, GICPR, 323-972-4081 or amy@gicpublicrelations.net.
###
GIC Public Relations is a full service firm specializing in media outreach, crisis management, and event coordination for all facets of the entertainment industry, political campaigns, sports figures, non-profit organizations, and corporate projects. For additional information visit us at www.gicpublicrelations.net.