FOR IMMEDIATE RELEASE:                                                 October 19, 2016
Media Contact:   
Amy Malone, Girl in Charge Public Relations (GICPR)
323-972-4081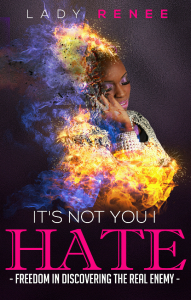 ATLANTA, GA – Lady Renee' shares her life struggles and triumphs in her new memoir' IT'S NOT YOU I HATE: Finding Freedom in Discovering the Real Enemy.  The Psalmist and First Lady of, The Life 360 Center in Atlanta, GA opens up about devastating losses and the her long journey back to a place of good physical, mental, and spiritual health.   IT'S NOT YOU I HATE: Finding Freedom in Discovering the Real Enemy will be available nationally on, October 25, 2016 on Amazon, and most online book retailers.
Lady Renee's story  is a powerful testament of her rise from the depths of despair to a life filled with love, mercy, courage and a greater connection to God. It is the true account of her personal and spiritual journey.
From six devastating miscarriages suffered while trying to have a child to overwhelming depression, prescription drug abuse, and the inability to share those sorrows with others, this journey is not unlike any other's – on the surface – but ultimately became something more. As a pastor's wife, she had a certain image to uphold; a certain standing in her church community. She allowed herself to believe her failures were personal and had no reflection on her faith, but soon she discovered she was wrong.
Through God's good graces, the power of prayer, and an unwillingness to betray all she'd been given in this world, Lady Renee' fought her way back.  Now she wants to help others by providing tools to take back their lives utilizing biblical principles, faith, and commitment.
"The world will be different because of the sacrifice Lady Renee made by opening her life to the world. Thank you for being phenomenally great. We are free."
— Akeia Keith, CEO and founder SheRockz, Inc.
 "My dearest sister/friend, Lady Renee' I want to let you know again how proud I am of you for stepping out in God and accomplishing this assignment. It took courage, boldness, and faith. You did it! You're just getting started!!!"— Dr. Francine Riley 
"Congratulations on your book release, so very proud of your courage & Thank you for sharing with the body of Christ and the world, such a blessing to many! Love you!"
— Pastor Tia Hunt. 
"Lady Renee', I could not be more proud of you. It takes tremendous strength and courage to share your story with the world, and I believe hundreds of thousands will be touched by your testimony! Continue being obedient to all the Lord has called you to do!" — Kyrsten Rossette 
If you are interested in scheduling an interview or reviewing, IT'S NOT YOU I HATE: Finding Freedom in Discovering the Real Enemy, contact Amy Malone, GICPR, 323-972-4081 or amy@gicpublicrelations.net.
###
GIC Public Relations is a full service firm specializing in media outreach, crisis management, and event coordination for all facets of the entertainment industry, political campaigns, sports figures, non-profit organizations, and corporate projects.  For additional information visit us at www.gicpublicrelations.net