Austin grad begins scholarship program
By COREY ROEPKEN
Houston Community Newspaper
Updated: 07.20.09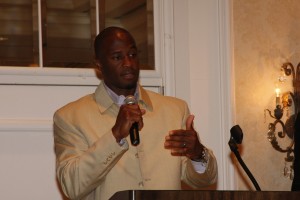 Devard and Devaughn Darling used to sit in their room growing up talking about what they were going to do once they got to the NFL.
Football is not played on a wide scale in the Bahamas, but that did not prevent the identical twins from being fans of the Miami Dolphins like most of the other residents on the Caribbean island.
The Darlings eventually made their way to Sugar Land and graduated from Austin High School after outstanding football careers. Devard is about to begin his sixth year in the NFL as a wide receiver. Devaughn, a bruising linebacker, died after an off-season conditioning workout in 2001 when both were playing for Florida State.
His best friend's passing has not stopped Devard from following through on their plans.
"We always wanted to give back to the community," Devard said. "That's both here in Sugar Land and back home in the Bahamas. Even though he's not here with us I'm taking that on and living it in the NFL and through the As One Foundation."
The As One Foundation is a multi-faceted organization that strives to support youth in their quest to succeed through sports. The foundation has begun football camps in the Bahamas and introduced the inaugural high school senior awards this year.
On Saturday at the Sugar Land Town Square Marriott the foundation awarded 10 $1,000 scholarships to 2009 Fort Bend ISD graduates. The students were chosen for their exceptional commitment to education excellence, special athletic interests and talents.
Like Devard Darling, Taylor Rammrath was a wide receiver for Austin. While Devard stood over six-feet tall and weighed more than 200 pounds, Rammrath stands about 5-foot-6 and falls quite short of Darling's NFL build.
"He's at a lot higher level than I ever was," Rammrath said. "He's been (at Austin) before. I'm sure some of the same coaches are still around. There is a lot to be said and a lot to model after what he's done."
Rammrath plans to use his scholarship money to help pay for his first year at Texas A&M's Galveston campus. After that he plans to go to College Station before enlisting in the service. Before that, though, he said he plans to further his athletic career on the intramural fields as much as possible.
He'll do it the attitude that encompasses the spirit that the scholarship program is trying to preach.
"They always say size matters, but size doesn't matter," he said. "If you have the heart and the desire to play well and you work at it it's going to pay off. You may not be the biggest and you may not be the best, but if you go out there and do what you're asked to do then I see that as a success in the long run."
The As One scholarship was a first for Austin graduate Alyssa Matus. Though she did not play any varsity sports she was a key member of the dance team that traveled outside of Texas to compete. She also was a member of Fellowship of Christian Athletes and the PAL program that, among other things, mentored middle school students.
Matus said she felt highly honored to earn the award because it was almost perfect for her situation. Despite all of her hard work and extracurricular activities throughout high school paying for college would be difficult due to a tight budget. She plans to attend Blinn College in the fall with hopes of transferring to Texas A&M.
"It was really just amazing getting to tell my story, and that scholarship was perfect for me," she said. "It was just great knowing I could help my mom pay for college. I've been saving up for a really long time."
Caroline Suter was a standout soccer player at Clements for four years in addition to participating in the YES program. She also was a member of National Honor Society the executive treasurer of student council.
Suter also earned the Houston Texans scholarship for champions that went to eight Houston-area athletes. She will attend the University of Texas in the fall with plans to major in education and eventually become an elementary school teacher.
"It's really nice that (Darling) is giving back to where he grew up," Suter said. "It feels nice to be recognized for all the hard work I'm put in over the years that goes unnoticed."
The seven other scholarship recipients were Omar Amin, Matthew Powell, Minh Pho, Drew Miranda, Shadi Moubayed, Shivani Patel and Alicia Villareal.