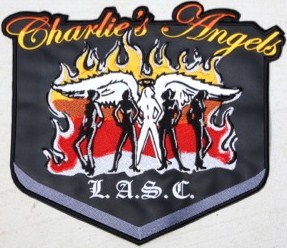 LOS ANGELES – Charlie's Angles is Southern California's newest motorcycle & social club for women. Made up of African American business women, their purpose is to support and uplift women who strive to be successful in their personal, spiritual, and social lives. The club will make its first appearance this weekend at the annual Revlon Run/Walk For Women, May 8, 2010.
Charlie's Angles was birthed out of the heart of Sheila Lewis, the President of the motorcycle club. After losing her sister to Cancer she was determined to find a way to channel the strength and support of her sister and ensure her legacy. Being a motorcycle rider and knowing the desire her sister Charlie had to ride, what better way to pay tribute to her than bring together a group of women that possess the very qualities that made Charlie the unique and powerful individual she was?
Each member brings specific qualities and talents to the group. All from various backgrounds, they all came together with one main goal; to uplift women. The group consists of educators, stylist, public relations specialist, administrators, musicians, and business owners. With a mutual love and respect for the everyday women working to make a difference in the lives of their families and those around them, Charlie's Angles is a support system not only for members, but those in the community in need of a positive word of encouragement.
Breast Cancer Awareness is one of the primary focuses of Charlie's Angels. The Angels will utilize community outreach to encourage women to learn how to give self exams, get annual medical check-ups, and get mammograms every 1-2 years if over age 40.
The members of Charlie's Angels are determined to make a positive difference in the lives of women and children in underserviced communities by providing them with knowledge, resources, and encouragement. When women are informed they are empowered, and an empowered woman can make the difference between a thriving community, and a defeated one.
To stay informed of Charlie's Angles latest projects or events join us on Facebook, or visit www.gicpublicrelations.net.
Media Inquiries: Amy Malone, GIC Public Relations
323-455-0332
amy@gicpublicrelations.net