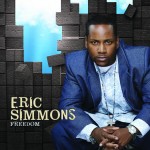 Eric Simmons debut CD, on Flow Music & Entertainment hits stores June 28, and promises to be a summer sizzler. Freedom is a mixture of R&B rhythms, jazzy beats, and inspired lyrics that reflect Simmons personal relationship with the Lord and his determination to win souls to Christ. It takes you on a journey from Traditional Gospel, to today's new explosive Urban Gospel sound.
Simmons offers songs of sincere appreciation like his first single 'Lord I Thank You', which has become a favorite among fans because of its simple and cross cultural message of thanks. The CD also includes inspirational songs such as 'My Heart Belongs to You' which emphasizes his belief that nothing can replace the love of God, and he brings it all together with a personal statement about his life in 'My Testimony'.
Simmons ministry has placed him on the popular TBN television program Praise the Lord, Radio-One's Praise 103.9 and the Radio-One One Love Cruise where he performed songs from his new project to capacity crowds. His music has been a significant part of his ministry over the past few years, leading him to sign with the popular independent Gospel label Flow Music & Entertainment, and given him the opportunity to open for some of today's top Gospel artists such as James Fortune, and Lonnie Hunter.
"We are looking forward to the debut of Freedom, and being apart of Eric's extension into Gospel music. As a pastor he is a spirit filled speaker whose energy and enthusiasm for kingdom building comes through in his music and in the pulpit," said Myron Williams, CEO and President of Flow Music.
Eric Simmons is currently the pastor of First Baptist Church of Paschal, in Philadelphia, PA where he resides with his wife and 4 children. One thing we know for sure is, he will join the ranks as a leader in this newly respected and now diverse industry we call Gospel Music.