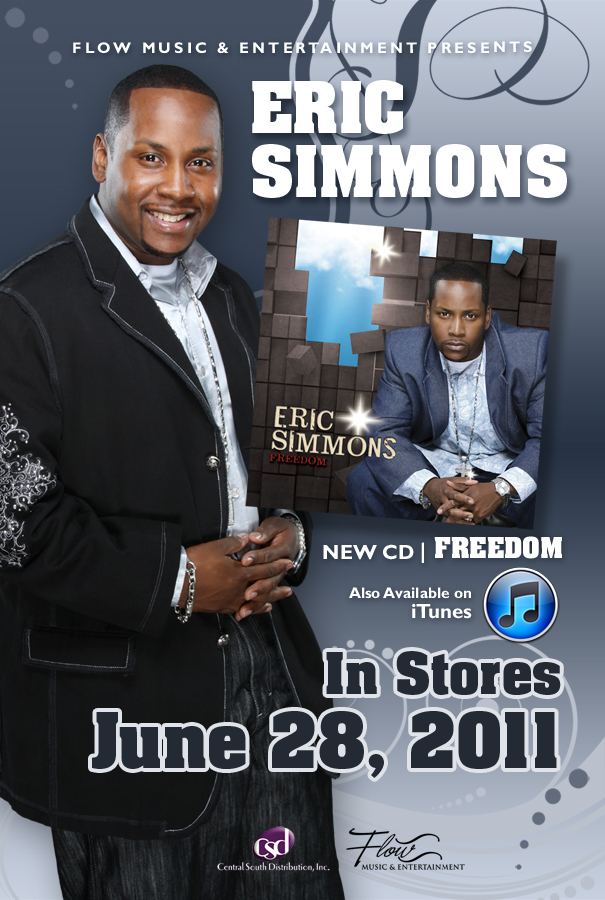 FOR IMMEDIATE RELEASE:
MEDIA CONTACT: Amy Malone, GIC Public Relations
323-972-4081
amy@gicpublicrelations.net
GOSPEL RECORDING ARTIST ERIC SIMMONS PROMOTES THE JUNE 28, RELEASE OF HIS CD 'FREEDOM' WHILE MAKING NEW FANS IN SEVERAL CITIES
June 28, 2011 – Gospel recording artist Eric Simmons makes stops in several cities on his promotional tour in support of his debut CD Freedom, which hit's stores TODAY, JUNE 28.
Freedom is a mixture of R&B rhythms, jazzy beats, and inspired lyrics that reflect Simmons personal relationship with the Lord and his determination to win souls to Christ. It takes you on a journey from Traditional Gospel, to today's new explosive Urban Gospel sound.
Simmons offers songs of sincere appreciation like his first single 'Lord I Thank You', which has become a favorite among fans because of its simple and cross cultural message of thanks. The CD also includes inspirational songs such as 'My Heart Belongs to You' which emphasizes his belief that nothing can replace the love of God, and he brings it all together with a personal statement about his life in 'My Testimony'.
The promotional tour will make its way to states such as Atlanta, Houston, Philadelphia, and New York to name a few. Simmons is looking forward to meeting DJ's and program directors at the many radio stations that are playing the new single 'Lord I Thank You', and dropping the project off to those stations that have not been introduced to Eric Simmons heartfelt new project. He will also join the line-up of Gospel Festivals and Youth Praise Concerts, greet fans at Christian Bookstores, and visit churches across the country.
Simmons currently the pastor of First Baptist Church of Paschal, in Philadelphia, PA his ministry has placed him on the popular TBN television program Praise the Lord, Radio-One's Praise 103.9 and the Radio-One One Love Cruise where he performed songs from his new project to capacity crowds. His music has been a significant part of his ministry over the past few years, leading him to sign with the popular independent Gospel label Flow Music & Entertainment, and given him the opportunity to open for some of today's top Gospel artists such as James Fortune, and Lonnie Hunter.
"We are looking forward to the debut of 'Freedom', and being apart of Eric's extension into Gospel music. As a pastor he is a spirit filled speaker whose energy and enthusiasm for kingdom building comes through in his music and in the pulpit," said Myron Williams, CEO and President of Flow Music.
If you are interested in scheduling an interview, or booking Eric Simmons for an upcoming event or church service, please contact GIC Public Relations, amy@gicpublicrelations.net.
###
GIC Public Relations is a full service firm specializing in media outreach, crisis management, and event coordination for all facets of the entertainment industry, political campaigns, sports figures, non-profit organizations, and corporate projects. For additional information visit us at www.gicpublicrelations.net