Lil Eazy E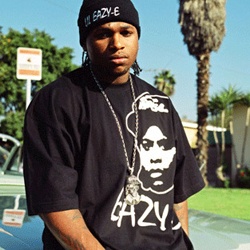 Hip Hop Recording Artist  DOWNLOAD BIO

The West Coast has birthed some of the hardest lyrics to hit the rap world, with songs like "F**k the Police," "6 N the Mornin,"" and "It Was a Good Day." The heart of some of the grittiest rhymes emerged from the streets of Compton, where hustling, and gangbanging were a way of life. NWA introduced the world to Gangster Rap in the 80's; Lil Eazy-E will resuscitate it in 2009, with his debut release on the Universal/Blackground label "Prince of Compton." The first release "What We're Claimin" is a gangster's anthem, with rich lyrical flow over funky, hard hitting beats.
Lil Eazy-E continues the legacy of his late father, rap icon Eazy-E, by delivering a searing collection of bone-crushing songs about the streets of his hometown, Compton. Lil Eazy's lyrics reflect on the life and untimely death of his father, giving listeners an intimate look into their world.
"My father rapped about life and times, and I'm doing the same thing now. I'm speaking on issues every Eazy-E fan wants to know," says Lil Eazy-E.
He is addressing subjects that until now have been fueled by rumors, such as his thoughts on his father's life and death, studio gangsters, and his lifestyle since his fathers passing.
"A lot of people probably think I grew-up in the Suburbs of Southern California, living a privileged lifestyle. What they don't know is I was born and raised in the same house as my father, the oldest of nine kids. We were a big family that all grew-up together. I lived the same life as my father, and I'm giving you that life on 'The Prince of Compton'," explains Lil Eazy-E.
Raised by his grandmother Lil Eazy-E virtually retraced his father's steps, running the same streets his father made famous. As a child he turned to gangbanging, but he couldn't repress his keen artistic vision and soon started developing his rap skills.
"Prince of Compton" brings West Coast rap back with a vengeance, merging the flavor of N.W.A on songs such as "Money and Power" and "They Killed You," and mixing things up with "This Ain't a Game" featuring Bone Thugs, which takes listeners back to the Ruthless days. Lil Eazy-E also pays homage to one of his childhood hero's Ice Cube on "Shotgun" which was inspired by the street classic "Today Was a Good Day."
"Ice Cube was a huge influence on my record. Knowing him as a kid and then working with him as a man was a great learning experience," said Lil Eazy-E.
With a phenomenal debut album, budding record company and fledgling roster of talented rappers, Lil Eazy-E is poised to become the next West Coast Rap Kingpin, just as his father did nearly 20 years ago.
"N.W.A Ent. represents a legacy. Everything I do from this point on represents my father and the impact he's had on rap music. This is a movement to continue his legacy and build an empire. We're going to stay strong and push it, just like Ruthless was back in the day," stated Lil-Eazy-E.